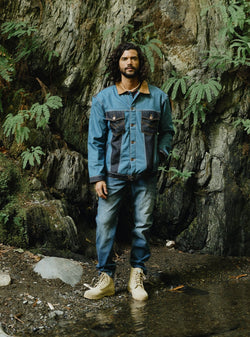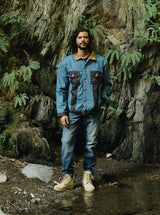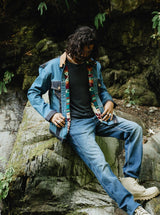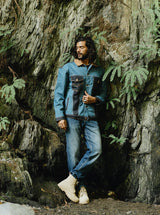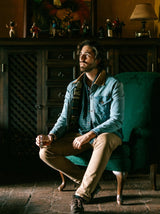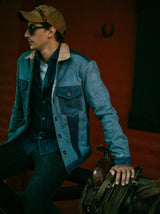 Handcrafted by artisans in Ecuador, the Remake Jacket offers a sustainable and innovative spin on the classic denim coat. Crafted from upcycled denim, each jacket tells a unique story of transformation and revival while displaying a rich texture that testifies to its green origins. As you wear it, a unique patina develops, adding depth to your style narrative. The jacket features a blanket lining made by the Otavalo indigenous community and is finished with a suede collar, showcasing a luxurious edge. Despite its sophisticated aesthetic, it offers practicality with reinforced stitching and handy pockets. The Remake Jacket - the ideal style statement for the urban man navigating the vibrant cities of the world, balancing durability, functionality, and ethical craftsmanship.
We work with seamstresses from rural communities to handcraft each of our pieces, enabling them to become independent through their skills and provide for their families. We pay 15% of the price of each of our products directly to the seamstress that manufactured it. 
Did you know an average pair of jeans requires over 1,800 gallons of water to be manufactured? That is the equivalent to the amount of water that a family of four needs for 64 weeks. ⁠Reusing fabric offsets the production of new material and in turn, offsets the usage of resources. By upcycling denim through this jacket, we avoid the waste of roughly 7,800 gallons of water and give new life to around 1.8 pounds of textiles.
 Free Shipping
Free shipping on orders above $50 within the US & Ecuador. International shipping will vary depending on the carrier's rates.
Returns & Exchanges
We offer free returns and exchanges in most of our products.
Details: Our policy lasts 21 days. If 21 days have gone by since your order was delivered, unfortunately we can't offer you a refund nor an exchange.


Click here to learn more about our policies.
Changing the world
One Jacket at a Time
Product Specifications
100% upcycled denim
Label crediting the artisan who manufactured it
Two front handwarmer pockets
Interior vertical pocket for sunglasses and essentials
Custom Remu buttons
Handcrafted in Miranda, Northern Ecuadorian Andes
Dry clean only
With the Remake Jacket, you're not just rocking a fashion statement – you're embracing sustainability. Crafted from upcycled denim and lined with a cozy blanket handmade by the Otavalo community, every stitch is a testament to luxury and conscious living. It's time to redefine what it means to be stylish. Make the world a better place, one jacket at a time. Note: Due to the use of upcycled denim & natural materials, expect differences in tones and shades. This is what makes our products unique and special.
How We Make This Jacket
Crafted Out Of
Second Hand Jeans
Avoiding The Use Of
5,400 Gallons Of Water
Avoiding The Use Of
5,400 Gallons Of Water
Handcrafted In The
Community Of Miranda Ecuador
Handcrafted In The
Community Of Miranda Ecuador